I hadn't really appreciated I was retired until this week. The school had gone back as we left for our holiday and so I hadn't been at home when everyone one else was back at work. It is only since I have come home that I have started to realise all my friends and colleagues are working and I am not. It's a strange but very nice feeling.
We forced ourselves awake at 9 (we don't like to sleep that late really but jet lag is getting to us) and had a quiet morning before ambling down to Poole for a Starbucks and sitting ont eh quay int he sunshine watching the boats (OK Nigel was watching the boats and I was catching Pokemon).
There was a massive new boat in just built ... we watched it sail in and think it had been for a test sail. Incredible size. Sunseeker King Power
115.49ft | Sunseeker | 2016
The 115.49ft 116 Yacht motor yacht motor yacht 'King Power' is being built by Sunseeker in United Kingdom at their Poole, Dorset shipyard , she is scheduled to be delivered to her owner in 2016. Her elegant exterior and interior styling are the work of Sunseeker, who is also responsible for her engineering.
Accommodation
King Power's interior configuration has been designed to comfortably accommodate up to 10 guests overnight in 5 cabins, comprising a master suite, 2 double cabins and 2 twin cabins. She is also capable of carrying up to 5 crew onboard to ensure a relaxed luxury yacht experience.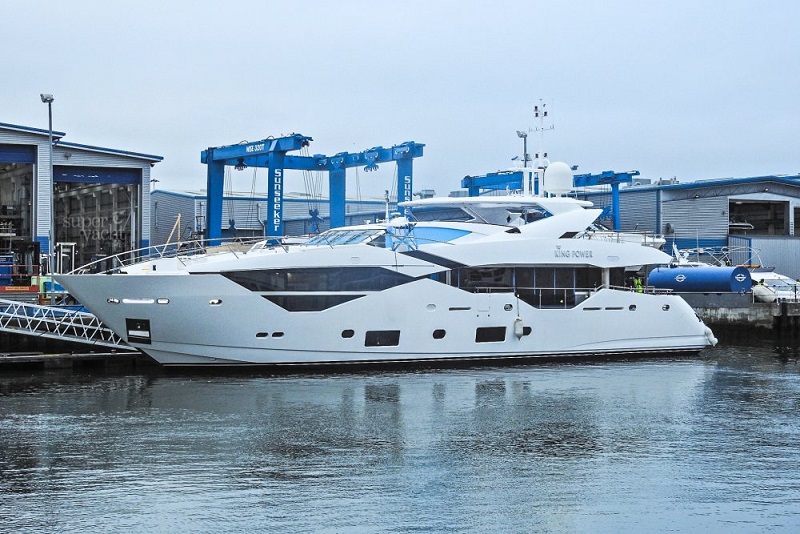 Bit bigger than your average dinghy then!
I also did a little scrapping with a new collection by Jumpstart designs called Our Magical Place - can't think why it appealed to me LOL !!!
First scrapping of our holiday - well first I can share
There are loads of bargains out there for Digital Scrapbook Day.
Don't forget to check out Dawn's bargains in her store HERE
and you can snag things like Vagabond
and loads of bargains at PBP HERE
Today I am thankful for
a lovely day - liking the sun and retirement
a nice smart lawn
getting back on my scrapping horse
SATURDAY 10th  September 2016
Starting mileage 36130
Day started 7.40
Ending mileage 36334
Day ended  3.40/6.50
Total miles 204
We enjoyed a very good night's  sleep... No fleas we knew of ... and a later start at 6.15 ...whoooo. That was almost a lie in. It was the sort of holiday where we would be up and off early making the most of daylight hours.
Breakfast was fine ... Though the knives were the thinnest plastic I have ever used. They made Amsterdam look robust! Maybe they are trying to cut down on waste products and that is why they make them so slim. If that is the case then maybe they ought to consider silverware and a dishwasher! Mmmm …. Just a thought.
We stopped for our first Starbucks on the road .... I am hooked on their unsweetened green tea lemonade. It is so refreshing. I also snagged a lovely Seattle Starbucks card ... I collect them ... No idea why ... And gained a dozen new ones this trip including a California, a Portland and an Orange County.  Once collected, Yes I am aware it is sad. We then headed towards Seattle, a new place for us to visit and we were not sure what to expect from it.
The bridges in Washington were quite iconic ... We saw so many of them. We hadn't seen anything like them before and there were so many. They were beautiful in their own way and we wanted to capture just a couple of them as they were such an iconic part of the state.
The first glimpse of Mount Rainier was impressive ... The mountains keep getting bigger. First there was Mount Shasta then Mount Hood and then Mount Rainier. We later learnt from Chris that they were all part of the ring of fire ... The same ring of fire that formed Hawaii too. We also learnt that it was not common to have clear days where Mount Rainier was visible from the city so we were very lucky.
Hold that thought for tomorrow's installment when we actually visited Mount Rainier. The weather was perfect ...blue skies ... No clouds and little traffic.
The sat nav was apparently set to shortest route … I later corrected that … as it took us to the Boeing factory a hell of a way ... Though we did get awesome views of Seattle. However if we never see traffic lights again we won't mind. It was a long long long road with literally dozens of sets of lights. I think we just might have traded the great view of the city which lasted for five minutes for a road that didn't have lights every quarter of a mile that went on for miles.
We arrived in good time but no chance of an earlier tour. Nigel looked round whilst I sat on the sun deck, sorry, observation deck.
I saw the BA 787 Dreamliner take its first flight, do an aborted test take off and then a real take off. I filmed it for Nigel though I didn't have a clue how significant it was. I was just following what everyone else was looking at. It was only when we were on the tour and they explained what had been happening in the morning that I realized what I had seen. See, I knew it was worth just filming what everyone else was filming with no idea what it was. It meant Nigel got to see it too.
I even managed to buy Nigel birthday presents from the Boeing store. No mean feat as he is jolly hard to buy for. Then we did the tour.
It was fab. There was lots of walking but it was truly fascinating. The building is the biggest in the world and it was huge. It was big enough to house the whole of Disneyland and have room for 7 acres of parking. We saw 747, 787 and 777 being built. It was awesome and so interesting to see these huge beasts in different stages of production and learn so many facts. The facts were fast and furious and there is no way we will remember them, but we will remember the experience. It is one of a kind and I would recommend anyone to do it. The tour was not at all expensive and even for someone like me not really interested in planes it was a great experience. Nigel loved it – it had been a dream of his for a long time to go to visit the factory.
 We came back into Seattle and found the hotel and garage really easily. It really was right off the interstate.  We checked in but didn't even go to our room as we had stuff we wanted to see whilst it was daylight. We went  straight down Pine Street to Pike Place. Interesting that it was filled with all the posh shops like Tiffany, Barneys, Nordstroms, etc yet one block down was scummy. I didn't like Seattle much as it had lots of homeless and a feel like San Fran. Neither of us are really 'city people', far preferring to explore the open spaces. The designer shopping doesn't interest us at all, however there was ONE shop there that DID interest us!
WE arrived at Pike Place when it was brilliant sunshine and very very humid and it was crowded and vibrant. It was so colourful with all of the flower sellers and I especially loved the stalls selling multi-coloured peppers.




Then we queued in the sun listening to street performers waiting to go into the first ever Starbucks.

The store itself was tiny and the queue was long, but we were well entertained whilst we waited. It was a bit of a pilgrimage for us and yes, we bought souvenirs. Of course we bought souvenirs.
Then we walked to the Hard Rock for dinner and more souvenirs and on to Cheesecake Factory for take out dessert. Could a small area of any city have been more perfect for us. Starbucks, our favourite drinking venue, Hard Rock, our favourite dinner venue (veggie leggie … superb) and The Cheesecake Factory our favourite dessert venue. (I am shocked at how many cheesecake factory trips we had this holiday … it was a little extreme)
We spent the evening catching up on photos etc.  and having an early night in gorgeous room with city views, an awesome shower (the bathroom was bigger than some hotel rooms) and the coolest blinds ever. I loved I could open and close them from bed. It is very rare for us to stay in a higher end hotel and whilst I felt a bit uncomfortable in the lobby areas, I could get used to the luxury of the room.
We usually stay budget and this was our luxury stop. We wanted to be in walking distance of everywhere so paid the premium for a fab hotel. Never ever had a bathroom that nice even in Vegas. Bigger than some of the rooms we have stayed in. Love it. I could get used to it. I won't!