I am updating this as I have sad news to add and am grateful to Jackey for notifying me.
We had a wonderful time last night watching a  BBC documentary Tigers in the House.
We had recorded it last week but not had time to see it and it was WONDERFUL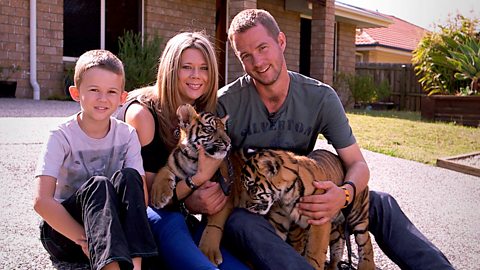 But it was also very personally important to us too. More on that later.
Tigers About the House follows Giles Clark, British Tiger expert and Head of Big Cats at Australia Zoo, as he hand-rears the most genetically important Sumatran tigers in the world – brothers, Spot and Stripe. To ensure the cubs survival, Giles is taking Spot and Stripe home to live with his boisterous family.
The pictures are courtesy of the BBC
He lived and breathed their lives and the fascinating story brought tears to our eyes as there was so much fun, love and heartache, and all for the best possible reason; to safeguard the species by strengthening the gene pool and raising awareness of the plight of the Sumatran tigers who could well be extinct if something isn't done.
Giles Clark now works as the keeper in charge of the tigers at Australia Zoo - and now we are DETERMINED to go to Australia as we HAVE to go to the zoo. The same zoo of Steve Irwin fame of course.
If youw ant to help the tigers - and they really do need our help - then this link will help you
I have copied this from their web site as you deserve to know more about this incredible man
Giles Clark
Giles Clark lives and breathes for tigers, holding a unique position at Australia Zoo working as both the Head of Tigers and Conservation Manager.

As head of Australia Zoo's world-renowned Tiger Temple, Giles oversees one of the only interactive, 'hands on' facilities for tigers anywhere in the world, leading a highly specialised team of ten handlers responsible for the zoo's twelve tigers.

Giles has worked with big cats in captivity since leaving school and is passionate about conservation dedicating much of his personal time to saving the species in the wild.

Giles' career began at Paradise Wildlife Park, a small Zoo in England and has grown exponentially since then. Before settling in Australia, Giles lived in India for a number of years, allowing him the opportunity to take part in vital conservation work. For Giles, this experience inspired a lifetime of working to protect the natural world.

Giles endeavours to instil his passion and dedication to conservation in every zoo he has worked throughout his career, but nowhere more so than Australia Zoo. With Giles at the forefront of conservation representing the global legacy passed on by Steve Irwin, Australia Zoo has continued to grow as a pillar of support for conservation activities globally.

In 2008, Giles instigated the negotiation process for Australia Zoo to receive three Indonesian tiger cubs, a significant acquisition considering the cubs were the first to be released from Indonesia in over 27 years. Giles set up the housing facility and spent eight weeks in Indonesia hand-rearing the cubs in preparation for their flight to Australia where they would play a key role in raising awareness for their wild cousins. As a member of the Australian Species Management Program (ASMP) committee, Giles recognised how crucial it was for the introduction of a new blood line into the program for Sumatran tigers.

The tiger facility at Australia Zoo is designed so all monies raised through encounters and photographs go directly back to supporting conservation projects, not only for tigers but for other endangered big cat species throughout Asia and Africa.

Currently, Giles plays a pivotal role in hand-rearing the world's most genetically valuable Sumatran tiger cubs, Spot and Stripe at Australia Zoo and remains dedicated to bolstering the captive breeding program to support wild populations.
We love the concept they have at the zoo - keepers interacting with their animals. Yes it is dangerous - they are tigers. Yes they could get hurt. But that is their choice and I wish more zoos would allow this to happen if the keepers choose to do it.
But did you spot why it was so personally important for us?
His career began at Paradise Wildlife Park. 20 odd years ago. With tigers. With 'our' tiger. With Bruno.
Giles was one of the two keepers who made it possible for us to meet Bruno. We have photos of him with Bruno and also the newspaper article with him in when Bruno was sick. Even then he had such an amazing bond and we stood and watched in awe when our interaction was complete and he went, with Bruno, into Brunos sleeping quarters and they rolled and played and nuzzled and then he fed him. That left a lifelong mark on us and it was amazing to see this man doing what he is doing now. He is a true animal champion.
 If you haven't watched it it is still available on BBC I player. You won't be disappointed ... I promise.
 It is with a heavy heart that I add the sad news at the end of this post that Bruno passed away last week.
THIS LINK is the newspaper article but in case the link vanishes I am also copying the text here.
STAFF at Paradise Wildlife Park have been in mourning for Bruno the tiger, who died last week.
Bruno, who had spent most of his life at the Broxbourne park, died at the Big Cat Sanctuary at Wildlife Heritage Foundation in Kent, where he had retired.
On Thursday last week, Paradise Wildlife Park said on its Facebook page: "It is with heavy hearts that we are sad to report the passing of a dear friend.
"Bruno the tiger passed away yesterday peacefully from old age. His life story will always be engrained in Paradise history.
"Rest in peace old pal."
Bruno was born at a zoo in Ireland, but was brought to Paradise Wildlife Park when he was six weeks old.
Park director Steve Sampson has special memories of him.
"He lived with us in our house for the first three or four months of his life," he said.
"At the time we had five lion cubs and a wallaby living in the house. It was good fun."
Bruno, who was the park's second tiger, overcame health problems to live to the ripe old age of 20, or 96 in cat years.
He met female tiger Padmini at the park and the two became a couple.
"Bruno and Padmini had an interesting life together," said Steve.
The tiger couple travelled around to other parks, spending a year at Colchester Zoo, as well as some time at Banham Zoo in Norfolk.
Bruno was no stranger to the small screen, appearing on Tomorrow's World, Big Breakfast and Blue Peter, as well as appearances on Saturday morning children's TV shows and Nickelodeon.
"He was very popular," said park CEO Lynn Whitnall.
"He was a really, really good ambassador."
Bruno was involved in lots of fundraising "experiences" at the park.
"The money we raised from the experiences with him goes towards our projects around the world," said Lynn.
Among the projects to benefit from the money were a school in India and a dog vaccination programme in Africa.
Beccy Porter, from the Big Cat Sanctuary, paid tribute to the tiger.
"Bruno was a wonderful character, very much enjoying his retirement here in Smarden," she said.
"He had a very sociable personality and was ready to greet people with chuffles and head rubs any time of day.
"Everyone loved Bruno and he inspired many visitors to learn more about wild tigers."
and from WHF in Kent where we have visited Bruno several times
A much-loved tiger has died at a Kent wild animal park at the ripe old age of 20.
Bosses at the Wildlife Heritage Foundation tweeted the sad news of Bruno's death this morning, saying: "Beautiful Bruno passed away yesterday at the grand age of 20.
"Old age finally caught up with him."
Bruno had already outlived his expected life span for his species in the wild.
Tigers are able to live 10 to 15 years in the wild, but some have survived to more than 20 years in captivity.
Today I am thankful for
the wonderful creatures that roam the land and the people who vow to protect them
our two tiny tiger we share our home with
wonderful experiences in life - one of the best of which was meeting Bruno almost 20 years ago.
Bruno having a wonderful life, happy with his life-long partner Padi (we were there the week they were introduced) and bringing joy to thousands.
and to end - Bruno more recently - an older gentleman who has sadly passed away. RIP Bruno xxx