Happy 4th July everyone.
I usually send cards - OK so they are e cards - to friends and family across the pond but it's been a bit manic lately - so apologies.
Been busy today and tinged with saddness too.
Every year ... and I am sure all teachers feel like this ... I hate saying goodbye to my class. You work with children for so long and you watch them grow and change and flourish. You get to know them and care about them and take such pride in everything they do ... then they go.They leave you and move on tot he next class, another teacher. Suddenly they are no longer 'ours'. You have to hand them over to other people to care for and it is not an easy thing to do.
I guess it is the way of the world, but it is always hard.
However, as teachers we know they may move but they are never forgotten.
I was also sad last night as we had an 'accident' at home.
I was sat in the lounge when there was a huge bang on the patio doors. I wasn't sure what it was at first but it was a woodpecker - I think one of the new baby woodpeckers as it was quite small - on the balcony. He had obviously flown intot he window. I screamed for Nigel and at first we thought he might just have been knocked out as he was struggling to get up.
It was horrible and we were not sure what we could do to help.
But sadly - nothing I think would have helped as he died a minute or so later.
I was devastated. We love our birds so much and have had so much pleasure from feeding them and seeing the babies come. It was so horrible just seeing it struggle and then pass on.
We went out and buried him in the back garden.
On to cheerier things and boy is this cheery.
Dawn has a brand new collection out today called Young at Heart in her Scrapbookgraphics store
It's quite an anomaly really as I certainy don't feel young at this point in term. I feel every minute of my age.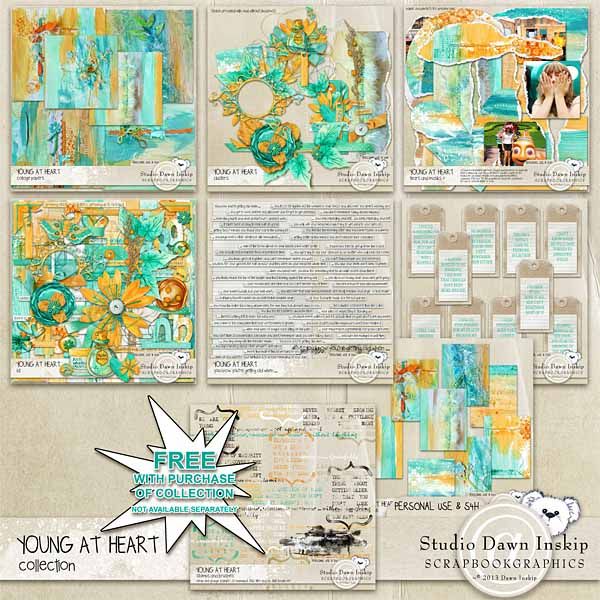 The photo - which I have played around with a lot - was taken last weekend on our picnic.
I loved the word art.
 and I share this as I think it is well worth watching. I had never read the declaration of independence read in full before.
Today is an apt day to share it
Today I am thankful for 
a lovely year
generosity
the fact the poor woodpecker didn't suffer for long
the utter joy our birds bring us each day