OK so it is officially HOT.
The temperature in our garden was 32 degrees and so the only thing to do when it is THIS hot is stay inside and scrap.
And I have help for you.
Dawn introduced her latest collection called Dolly Daydream ... what a perfect name. Can't think where that name may have come from!!!
It is a terrific collection and you can win it for free.
Whether you are a digital scrapper, a cardmaker or a paper scrapper it is so useful. The designs print beautifully and make great embellishments and great cards. And of course, it is a digital scrappers dream.
Look what you get in the collection
The kit
The collage papers
Templates
Overlays
Papers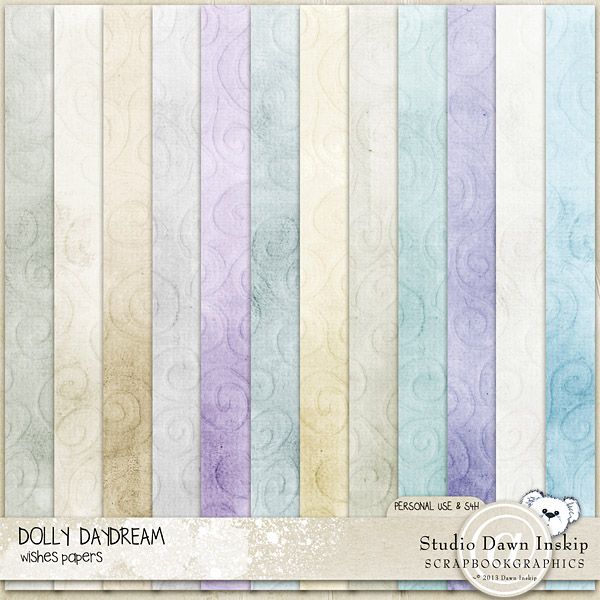 and word strips
How amazing would it be to win that!
All you have to do is answer the questions below and leave a comment on this post.
I will draw one winner with the correct answers at random on Friday.
You can find all of the answers you need at Dawn's Scrapbookgraphics store here
Do have a look at the amazing things she has there whilst you are searching.And as I know you will love what you see, be sure to sign up for her newsletter whilst you are there. It's free and you get to hear about all of her latest releases and snap up special offers and bargains.
Question 1
Finish this quote from Dawn's Young at Heart collection
The only thing I care to exercise ….
 Question 2
How many templates would you get if you bought Dawn's Templates No 6 bundle?
 Question 3
I made this card with something from one of Dawn's bumper collections. Identify the collection
Question 4
Dawn will produce collaborative collections with other designers and one of my favourite collections she has done is called Tranquility. Who did she collaborate with? This collection.
 Question 5
Dawn makes great alphas. What is the name of her very patriotic alphabet that is so fabulous for printing and cutting out for use on hybrid pages. You are looking for the alpha I used for the word Summer


So - a chance to win the entire Dolly Daydream collection for free.
I have new scrapping to share today from our trip on Thursday to Kingston Lacy
It was made for the weekly challenge on UKS
Today I am thankful for
being on Dawn's CT - I get to create with amazing stuff each week.
Dawn making it possible to give this free give-away
sunshine
electric fans
ice lollies