Well it's been a full on busy day here but all for the good.
Fiki's room is now transformed. We have told him now he is a grown up boy he has a big boy's bedroom. Not sure he gets's it - he is just miffed that his bed has gone.
Everything has been tidied and sorted and we have a huge pile of things to e bay and have filled the bin. The space we have is phenomenal. Instead of looking like a dumping ground, the spare bedroom that we always loved so much as it was so pretty when we first did it, is back to looking pretty again.
We have new storage built and the Ikea sofa bed is here, built and looks great. The room looks spacious, there is a place for everything.
 The photos don't really do it justice. The colours are nicer - more a softer lilac and the top paper is cream and ivory with silver and metalic lilac script and the dado rail is painted in lilac metalic paint.
It is also larger than it looks but you can't get further away. Where I am standing are two big double wardrobes and another unit.
No new scrapping either - but this is something I made over the holiday - another for the Florida album
and I also have a new page to share made with a brand new collection by Dawn Inskip
It is just what you need for those new year resolutions to eat a healthier diet etc.
Well it was just what I needed anyway. The collection is called another year another diet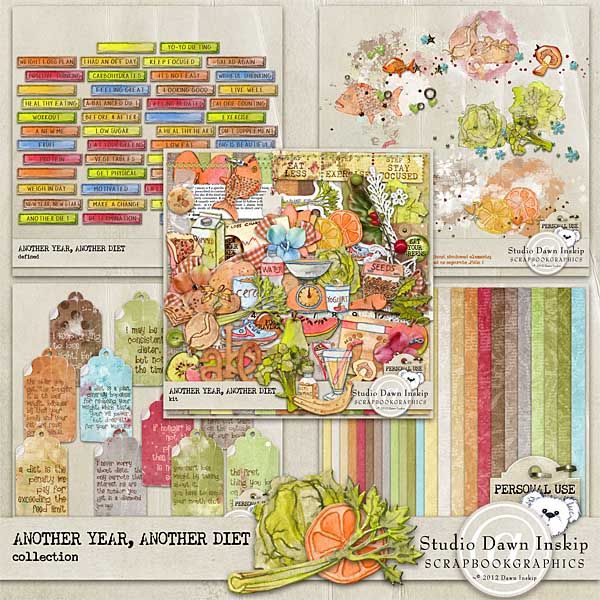 and here is my page
I couldn't resist the picture and the concept of becoming a shadow of my former self.
You can snag the collection at Dawn's Scrapbookgraphics shop now on special offer.
Today I am thankful for
hard work but a job well done

empty storage space - unheard of

being finished and tidy again
and my Zen page a day today is
See into life. Don't just look at it.  Anne Baxter
and my Bible Reading page a day is
The LORD is my strength and song, and he is become my salvation: he is my God, and I will prepare him a habitation; my father's God, and I will exalt him.¶  EXODUS 15 : 2