Happy Thanksgiving everyone
I hope that all of you who celebrate Thanksgiving are having a fabulous day today and that your lives are filled with blessings for which you are thankful. I have heard from many of our family and friends already as our cards winged their way over the Atlantic earlier.
We celebrate with our American family even though we are far away and will be eating our Thanksgiving dinner at the weekend.
I lead worship today about thanksgiving, highlighting the many things I have to be thankful for (and it was fun finding portable things that represented each thing)
I thanked the Lord for my hobbies of scrapping and crafting, photography  and reading, for travel, for gadgets (Oh yes the I Phone had to be in there) for food and water and a safe place to live, for the gift of being a teacher and the joy of working with children, for  health and for a continually growing and strengthening faith,  for family, for friends, for my beloved fur family and most of all for Nigel. By the time I had finished I felt really truly blessed.
I hope that all of you have much to be thankful for today.
I made the gift below last year but thought I would share it again as it may be of use to you for your thanksgiving pages using all of the pictures you are no doubt taking today.
You can download the files HERE
I have to say I am not so thankful for the wind that has built up really really strongly here though - though it is nice to be in the warm and cozy.
It's not cold outside today but I have been scrapping with a really really cool (sorry but the pun just had to be) collection today.
Made by Dawn Inskip it is called Baby It's Cold Outside and it is lush. It is oneI will be using again and again and again. It is so useable and NOT just for cold pictures.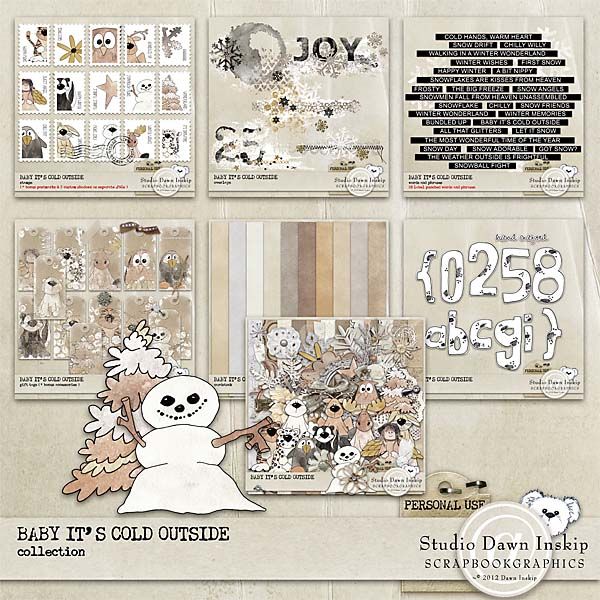 You can snag it from Dawn's Scrapbookgraphics store.
here is a page I made with it. I also used Photo Emphasis volume 18.
 That has to be one of my favourite pictures of Emmy Lou - that expression speaks volumes. She was, in reality, disgusted as Aunty Karen had phoned Mummy as she needed a wintry picture for a magazine project and so she was all bundled up like she was going out in a snow storm and was then very unhappy when there was no snow.
I have already really done my thankfulness today but here is a summary
Today I am thankful for
so much that is wonderful and precious in my life and a grateful heart with which to be thankful.
Keeping a thankfulness journal every day for over two years now. It has made me really appreciate all of the blessings I have in my life. I am a very lucky - and a very happy - lady.
My very special Samantha - Happy Birthday sweetheart xxx
And my page a day calendar
Okay, I admit it: I don't like Thanksgiving. It's not that I have anything against gratitude; what I don't like is all the eating and the patting of bellies and then more eating. But my family loves Thanksgiving. Last year, my daughter Amy Jo suggested a progressive dinner, where we go from house to house for different courses of the meal. "And you might want to give Grandma a break this year and cook the main part of the meal." Forget the fact that I haven't really cooked in … well, a long time.

My husband, Gary, and I went out to dinner the night before my cooking adventure was set to begin. As we were driving home, we saw a young man, barely visible in the darkness, waving frantically. Gary guided our car across three lanes of traffic and stopped. Instantly, the young man was at our window.
"Wow, thanks, man," he said. "Broken-down car. Been driving for 24 hours. Trying to get home."

We invited the young man and his buddy into our backseat and let them use our cell phone. After calling a tow truck, the boy's buddy tried to reach his dad. Finally, after talking to another relative, he handed us
the phone. "My grandma … she had a heart attack. Everyone is at the hospital."

We were silent for a moment. Then, thinking of the long day ahead of me in the kitchen, I asked, "What's her name?"

"Emily," he said.

"Would it be all right with you if I prayed for her?"

Even in the darkness, I could see his shoulders sag a little less. "Yeah, that would be great."

So all day long, as I prepared for the big meal, I prayed for Emily, for her health, her family, their holiday.

Thanksgiving dinner turned out great. My family had fun going from house to house all day. And I
didn't mind the overeating quite so much. I kept thinking about Emily and how God had given me the blessing of praying for her. Which gave me just one more reason to give thanks.
Thank You, God, for giving us the things we truly need.—MARY LOU CARNEY