Well, I haven't been home very long and it has already been quite an adventure.
As I have been cooped up all day we decided to go for a brisk walk across the heath before I settled down to work. I just needed to stretch my legs and get some of that sunshine. As it happened I stretched my voice and most of my body. More of that later.
First thing we did was stare at the adder for ages. We have a culvert at the end of our drive which acts as drainage for the heath and we knew, as the heath wardens had been round just before I got home, that there was an adder in the culvert. They had rung and asked Nigel to borrow a bucket to try and get him out but he was having none of it - the snake ... not Nigel.
They put some branches down to give hime something to use to get out.
He was beautiful. About 2 foot long it was nice to watch him from a relatively safe distance. (The wardens have since been back, captured him and re-homed him safely)

For those of you across the pond the adder is the only venomous snake we have here in the UK. And yes, we do get them in our garden as we are right on the heath.
Anyway we went for a walk and then I came home ready to work. I felt something prickling my neck/chest and nudged my top a bit then it happened again a couple of minutes later and I looked down and nestled right about to go excavating down my bra was a beetle.
Now those of you who know me well know I love nature - all things in nature - but insects needs to be strictly in their own part of nature which is actually quite a long way away from me.
Nestling on the inside of my top, about to go delving, does NOT constitute an appropriate distance.
I think even if Simon Cowell had come in (Oh yes ... I am afraid so) you wouldn't have seen me get my top off any quicker. By the time Nigel, sat behind me at his desk, turned round, the top was off and everything else was coming off. And the screaming certainly gave my vocal chords a work out as well as arms and legs from all the flailing around and running on the spot! It was an exciting few moments.
Nigel took said top, with beetle ensconced, and re homes him on the heath with the adder. OK so he was a beautiful beetle - a bright peacock blue and green, but NO WAY do I ever want to see one - or any insect - that close again thank you.
We think he was one of these. A Rose Chaffer
Latin name: Cetonia aurata

Size: Approximately 20mm long

Distribution: Found throughout the UK, although thought to be declining in numbers.

Months seen: May to October

Food: Flowers. The larvae live and feed inside rotting timber.

Habitat:Meadows, parks and gardens

Special features:The rose chafer is one of our larger and more attractive beetles. The upper surfaces are an iridescent emerald green and bronze colour. The underside is a bronze colour. There are ragged white marks running widthways across the wing casings which look like fine cracks.

Rose chafers are usually seen in sunny weather feeding on the petals of flowers - especially roses.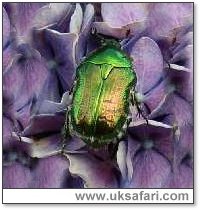 Anyway enough of our local wildlife for today.
I didn't add my photo of the day for yesterday as I couldn't take it until last night. Nigel runs quizzes - amazing innovative quizzes - and we had one last night so this is my hubby in full flow.

I have a new page to share, which I made as part of my DT work for Pickleberrypop, today.
 This is another for my Paris album. The kit is part of the Pickle Barrel - this is a great mid month offer where all the designers make kits and element packs int he same colour palette and they are all on sale for $1 each - YUP - $1 each. You MUST check it out here
 The May collection is all lilac and pink and totally lush.
The Paris page was made using a new kit called
Hey Girlfriend  by LouCee Creations at Pickleberrypop

And just so you can see some of the other pastels in the colour collection this month here is my next monthly page - week 17 - made with a lovely set Life everyday (May) by deb fisher designs at Pickleberrypop
 Check out these and the other Pickle Barrels designs - you know you want to!
Today I am thankful for
getting the insect OFF ME!!!!!!
Seeing the adder ... at a distance
a bit of a walk
an amazing wonder I didn't capture. We had the most amazing visitor to our bird feeding station yet - a spotted woodpecker. I have only ever seen one once in the garden. We get the green woodpeckers daily - always have had. But the spotted are almost never seen by us and so to see one hanging off one of the feeders was fab. I wasn't quick enough to snap him but I hope he will be back.
And finally my page a day calendar today
Station Two is the busiest station in our fire district. I recently worked a 24-hour shift at Station Two, running the rescue squad with Jeff.

I like running 911 calls during the day. The hours fly during emergencies. The trouble is, emergencies have no respect for my need to sleep. Since each 911 call generates a lengthy report, as few as three calls after 10:00 P.M. can mean a sleepless night.

Jeff and I had just returned to the station at 4:00 A.M. following our second call when the alarm went off for "an elderly female who needs help getting from her bed to her wheelchair." This wasn't an emergency. We left the station with no adrenaline rush, no lights, no sirens, and no sleep. I wondered if Jeff was as irritated as I was. I got out the map book to direct him, but Jeff said, "I know where this is. I've been there a lot."

Jeff knocked on the apartment door before entering. "Zoe, it's me, Jeff," he cheerfully announced. He went back to the bedroom where Zoe was balanced between her bed and her wheelchair. We gently lifted her into her chair. I yawned and began moving toward the door. I hoped to get an hour's sleep before our shift was over.

Jeff fussed over Zoe for a minute or two and then said, "If you need us, you just call. We'll be right over."

I don't know if Jeff has ever heard the parable of the Good Samaritan. I learned it in Sunday school and then taught it to others. It's easier to learn and teach a parable than it is to live it. Jeff was Zoe's Good Samaritan. He had lived the parable for her not once, but many times.

"You relax," I said to Jeff when we got back to the station. "I'll write the report."


Dear God, help me to learn from the examples of the good people You've put in my life.
—TIM WILLIAMS