Those of you who are observant will have noticed my recent posts were not 'live' but posted in advance as I have been away.
I have had a few very interesting but very tiring days on the Isle of Wight. It was good fun with a lot of laughs but incredibly hard work and I am getting far too old to survive on just three hours sleep a night and no real off duty time for three days. I came home shattered, wet and muddy but feel a little more rested now. I might possibly even get dressed soon!
There were some interesting experiences. I have never before - nor really want to again - eaten a picnic outside in temperatures of -2 with a significant wind chill factor, dressed in so many clothes my arms didn't quite bend fully, with enough snow on the ground for a snowman to be built during lunch. But what an adventure.
One of the places I visited was Amazon World and it was a chance to see some wonderful animals - cue photos and a lot of my all time favourite animal - the ocelot.
 he lemurs were lovely and they have an enclosure you can go into. It was great to take some close up pictures but I am glad our group left bfore they became really active and were sitting on people's heads, stealing spectacles and the like.
Although it was bitterly cold they were trying to soak up as much of the sunshine as possible but it looked for all the world like they were doing yoga or meditation.
I fell in love with this little armadillo who was just so cute.
and I loved the iguana who felt so beautifully warm and soft
But the real love was the oceleots.
There were two of them and they are just so beautiful. They remind me so much of Kira, our Oce-bit - and their markings are spectacular. It was a great chance to get lots of photos, which I did and I had to be very literally dragged away.
And yes, it is snow on the ground.
And so on to some scrapping.... none of which has been done today but all of which is new.
Today is Pickle Barrel Day over at Pickleberrypop. The new Pickle barrel kits have all been released and are all on sale at just $1 each. And they are lush.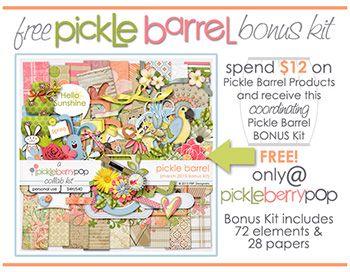 I made this page with a glorious collection by Tinci called Butterfly Kisses.
Today I am thankful for
lots of laughs over the past few days

my own bed and a hot bath

being home

some new photos to scrap.