I remember being horrified when I visited my Brother-in-law in Concord one year and went into the local school for the day. It was a fabulous primary school  - well Elementary School called The Alcott School as Louisa May Alcott lived in Concord.  I had a wonderful morning there and was planning to spend the whole day but they closed at lunchtime. The reason was snow. And by snow I mean real serious mega snow. It was March 31st 1997 and we were about to be hit by an incredible blizzard - The so called April Fool Blizzard saw the third worst snow in the Boston area, shut the eastern Seaboard and stopped us returning home on 1st April. Such fun but - it was that day I learnt that in America if a school closes for snow then snow days, extra school days, are tacked on at the end of term.
Crickey - I hope that doesn't get implemented here as we have had a snow day- YEY!!!!
I LOVE snow. We see it very rarely and it is so exciting. It was due to start snowing at about 6 am but when I woke up at 5 and looked out of the window there was already a heck of a lot of the white stuff.  and it kept falling solidly.  Our neighbour had to take his partner in to work and it took him two and a half hours and he said it was awful getting to a main road. We are quite a way - about a mile - from the first road that stands even a chance of being gritted. I am so glad I didn't have to go in. I would have made it but probably not by car. I would have had to walk and then get a bus.
I gather from Nigel's mom in the next town that she didn't have that much and it stopped earlier, but we are very exposed (when we drive down our road the temperature drops a degree - I kid you not ... it truly does) and so with quite a wind and the colder air the heath was covered and it was really deep in some places where it had drifted. We measured a footprint in our drive and it was just over 2". Lovely.
So Nigel and I did what any kid would do and we went out to play and were out hours. I was so cold I couldn't feel the cold anymore but it was amazing.
So here are some of the photos (I rarely get to show snow pictures so be prepared for a fair few)
View from the front windows
and the back


and we enjoyed 'our' heath so much
We are so lucky to have this on our literal doorstep
Nij was clever to catch these mid air
and when we had had a nice walk we came home and had a snowman building competition - wasn't much of a competition to be honest as his was huge and mine was tiny.
But they were great fun to make and very different.
and I. of course, made a snowcat

Such a fun morning
Now I guess I am going to be doing some snow scrapping, but I have other scrapping to share first.
It is PICKLE BARREL TIME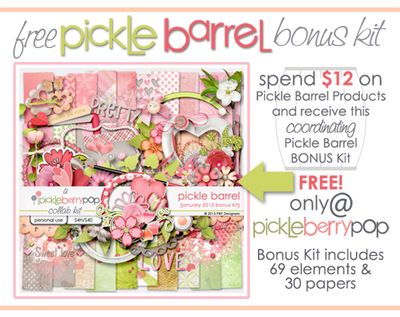 That means loads of colour coordinated kits all on sale at just $1 each at Pickleberrypop.
So dash over and grab some loveliness.
Here is a page I made with the creations by Fayette Designs I Loved You First
 The photo is of my cousin Richie on his wedding day
and here is one using products by Lorie M called L'il Treasure L'il moments
Today I am thankful for
SNOW
the beauty of nature when clothed in white
snow days
being warm inside