I decided that, this year, I was stopping my journal on 26th December - Boxing Day.
So having decided that - and been away yesterday - today was the day to finish it off.
I made my end page and the front and back covers, printed everything off, mounted it all, bound it all and it is done. And I am really pleased with it.
Before I share much more I must give the credits for the album and I owe a huge thank you to Indigo Designs at PickleberryPop.
I used her Season's Greetings Mega Collection for almost the entire album. You can see her collection here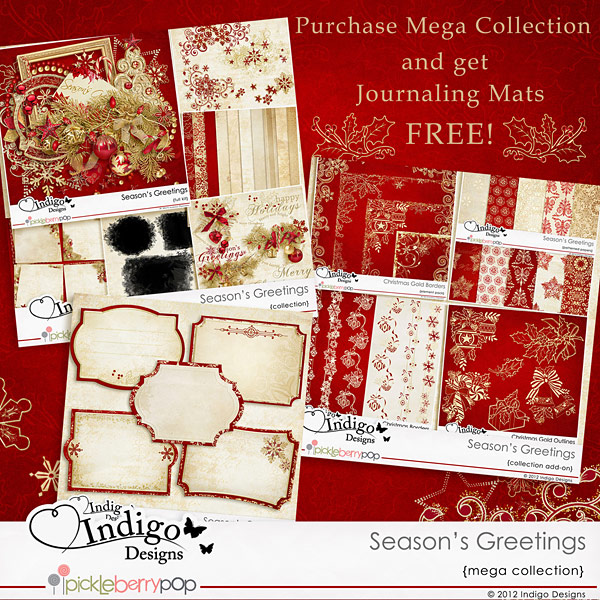 The only real additons were a couple of doodles from Dawn Inskip and numbers by Jessica Sprague that were from her Holidays class several years ago
Using a complete collection just makes the whole thing hand together more easily and makes completing daily pages a speedier process as you don't have to trawl through endless supplies trying to select what to use.
and just a small glimpse of the individual pages.
It is my 7th Christmas jpurnal, each very different and each one a treasured memory of our favourite season that we love looking through. This year, unbeknown to me, Nigel took himself off for a while and came back, quite moved, and said he had read through all of the Christmas books (which I put out each year) and really enjoued them all. That makes it so worth doing.
Today I am thankful for
Christmas holidays and traditions
Memories captured for ever
a lovely scrapping time
and my page a day calendar for today
My husband, Charlie, and I spend Novembers in Sausalito, California, just over the Golden Gate Bridge from San Francisco. A dour café waiter there always remembers us, at least enough to give us a half
smile. But last year, when we walked in, he smiled broadly and hurried to greet us with a kiss for me and a handshake for Charlie. The bushy mustache that had hidden his perpetually downturned lips had vanished.

At first, I thought it might have been the absent mustache that accounted for the change. Perhaps
he'd been smiling all those years under all that hair. But, no, he couldn't stop talking and seemed happier to see us than in all the previous years put together.

Eventually, a waitress clued us in: He was in love. He'd met a woman who not only loved him, but refused to accept his glum disposition. She'd encouraged him to take up hiking, so he'd lost a few pounds.

Later, back in our rented cottage, we marveled at the change. "Look what love can do!" Charlie said.

That made me wonder: Why aren't we all smiling like that waiter, rejuvenated and full of joy? After all, God loves us in a way that human love can only shadow. Yet how often do I feel so utterly loved that I'm
ready to change my life to reflect it? How often do I let the world know through my demeanor that I'm loved by the One Whose love redeems the world?

Not often enough. Still, tomorrow's only a few hours away.
Loving Lord, help me to feel and mirror the transforming power of Your love.
—MARCI ALBORGHETTI